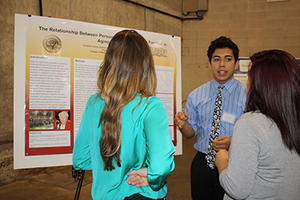 The Center for Undergraduate Research and Academic Engagement (CRE) serves as a testament to FSU's commitment to quality, evidence-based research and practice. Through a combination of supported research activities and internal reporting, the CRE employs data-driven decision making to continuously improve our quality research programs for the students we serve. In the dissemination of our annual reports and publications, our many invested stakeholders can learn more about our programs, easily identify specific benchmarks, and possibly determine areas of future support interest.
Supported Research Activities
During the spring 2013 academic semester 30,744 Florida State University (FSU) undergraduates were invited to participate in a research study regarding their undergraduate experiences. The FSU Vice President of Research office provided $1,000.00 to be used for support of this research study. Through the use of incentives and weekly reminders, a 24.3% response rate was obtained resulting in a study sample size of 7,469 undergraduate students. This executive summary presents an overview of research study results regarding FSU undergraduates' involvement in research. The CRE extends our gratitude to principal investigator and lead author Brandon J. O. Nzekwe.
For the full FSU Undergraduate Research Involvement report, click here.
CRE Internal Reporting
The CRE is dedicated to the preparation of comprehensive and rigorous annual reports, for use by our college, division, and university counterparts, as well as interested students and community members.
To view our most recent 2014-15 annual report, click here.