It's as Easy as:
FSU is a major national research university, and undergraduates benefit from this status by being able to get involved in the research and creative work happening across campus. Students like you (yes, you!) can contribute to a body of knowledge and become a part of FSU's legacy of high-quality student research. In fact, over 25% of FSU undergraduates conduct research before they graduate. Research occurs in every discipline, so whether you are interested in exercise science, music, communications, engineering, or any other major at FSU, there is a research project that is right for you!
CRE VIRTUAL ADVISING
Please set up a meeting through Campus Connect, use the instructions on the "Getting Started" page, and we will respond to you with an outlook appointment with Zoom link.
In addition, we're holding Virtual Drop-In Advising Hours for Summer 2020! David Advent (madvent@fsu.edu) will be available Tuesday-Thursday from 12:00 pm to 4:00 pm to answer any questions you have about getting involved in undergraduate research at FSU. Please be sure to follow the Campus Connect steps below to schedule an appointment with CRE; from there, you will be able to follow a Zoom link to the Drop-In Advising. Please reach out to cre@fsu.edu and madvent@fsu.edu with any questions.
How To Get Involved in Undergraduate Research Video Recording
On September 15, CRE and the Student Council for Undergraduate Research and Creativity (SCURC) hosted an event on how to get involved in undergraduate research at FSU. Watch the recording of this event below!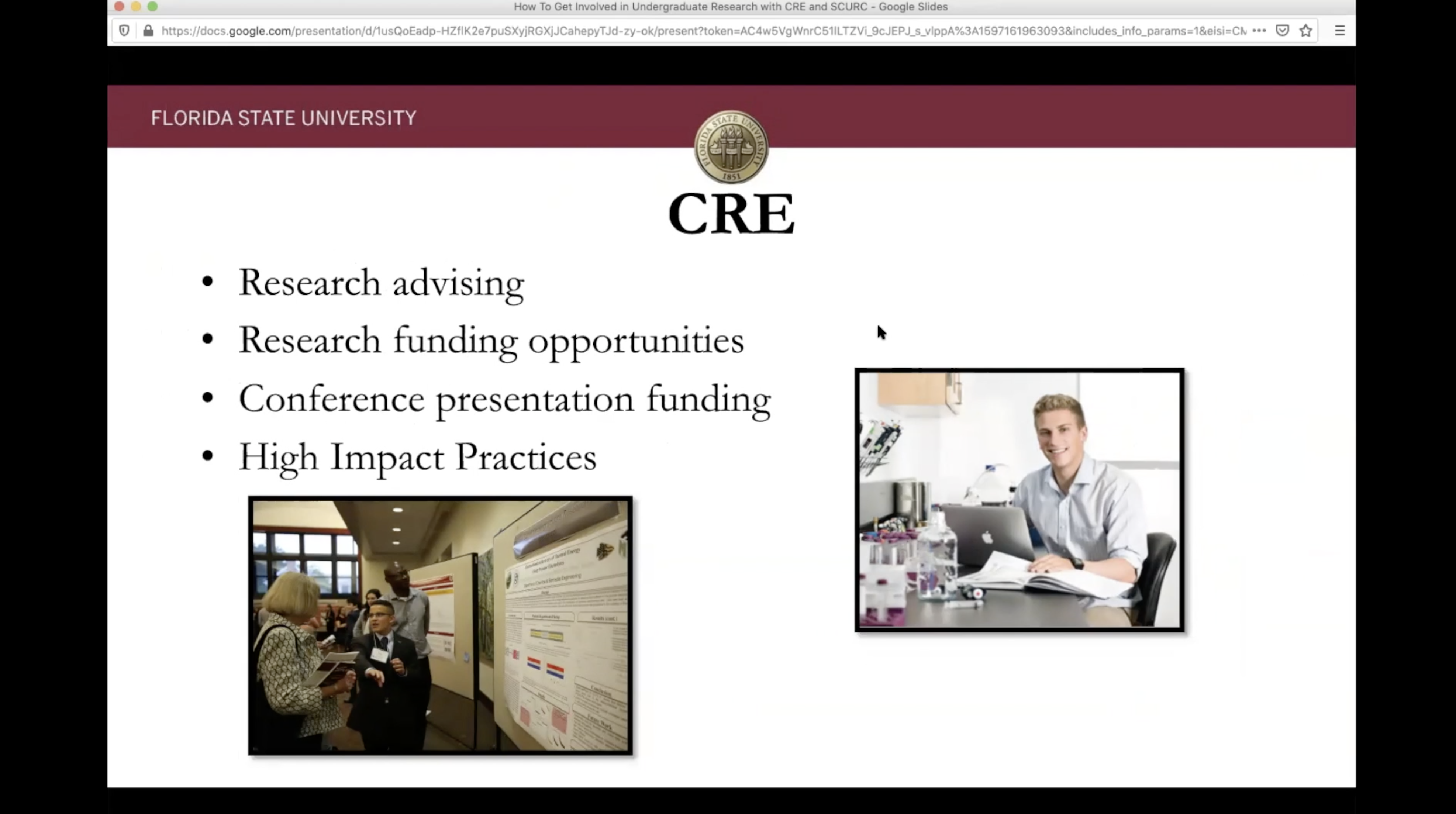 title-inside title-centered
2