is now open for the 2022-2023 academic year! Click the link above to submit your proposal--proposals are due August 15!
We will be hosting three virtual UROP Research Mentor Info Sessions throughout the summer. Please register using the zoom links below to learn more about being a UROP Research Mentor.
Wednesday, July 20 from 1 pm - 2 pm Zoom Link
Wednesday, August 10 from 3 pm - 4 pm Zoom Link
Come learn more about becoming an Undergraduate Research Opportunity Program (UROP) Research Mentor! At this session, you will hear about the benefits of working with a UROP research assistant as well as associated funding and awards, including perspectives from previous UROP Research Mentors and UROP students in the program. UROP Research Mentors who are currently working on a project and need help with their research can have student research assistants on their projects for an academic year at no cost as part of UROP.
Watch a Zoom Recording of our June Research Mentor Info Session by Clicking on the Handbook Below!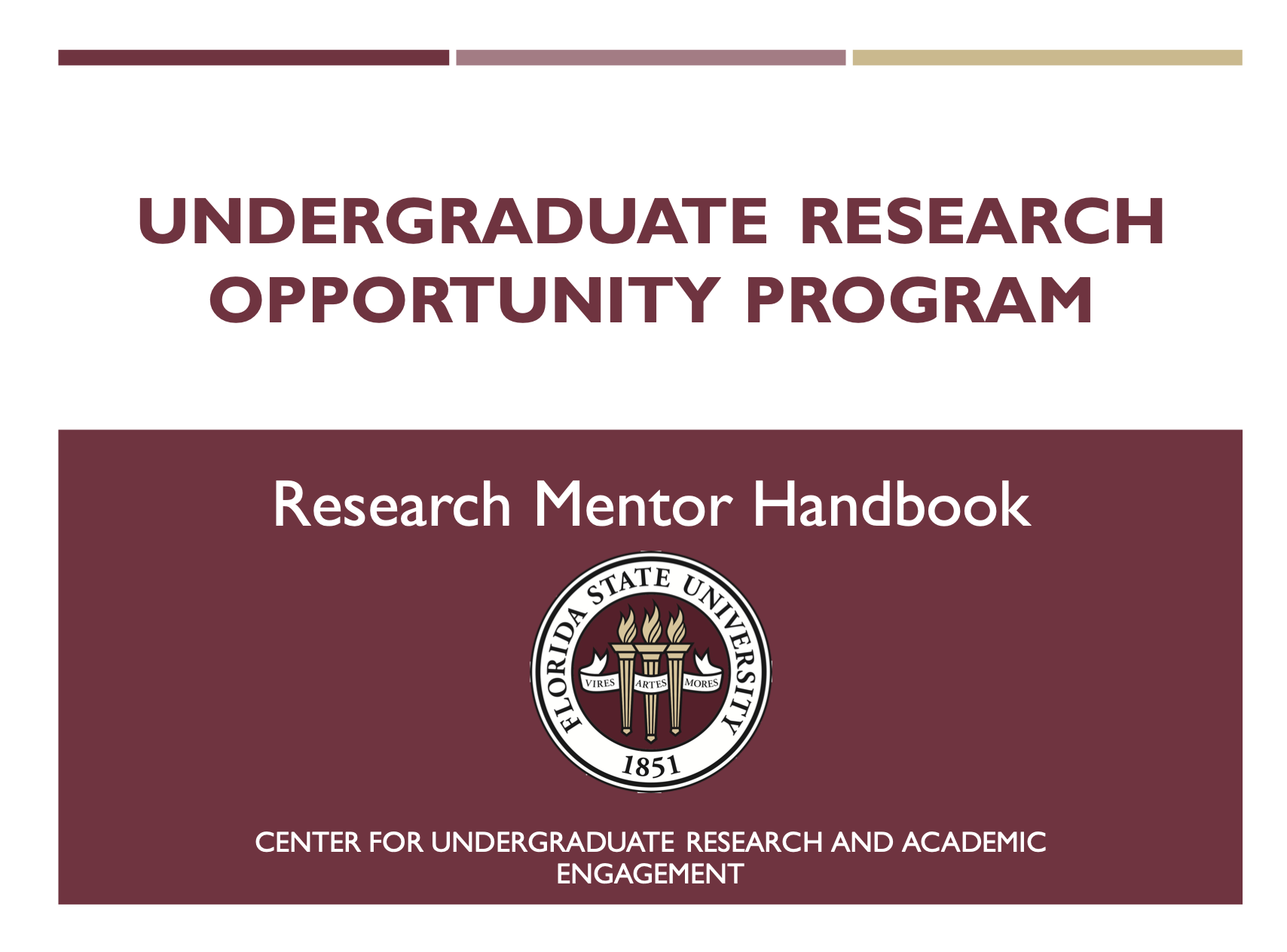 What is your role as a Research Mentor?
The Undergraduate Research Opportunity Program (UROP) is an initiative by the Center for Undergraduate Research and Academic Engagement to engage high-achieving undergraduates in the academic culture of research and offer help to Research Mentors. Open to all departments, the program is three-fold:
Students participate in a UROP colloquium class that introduces them to the practice of research, provides guest faculty speakers, and offers continuous support and training

Students work as research assistants to Research Mentors (Faculty, Postdocs, Graduate Students, and Campus Partners)  

Students present their Research Mentors' projects and their contribution to it at the annual undergraduate research symposium
UROP Research Mentors will work with student research assistants for a year-long period. UROP is currently recruiting Research Mentors to submit projects for which they would like undergraduate research assistants. There is no obligation to take a UROP student if you submit a project; you select the UROP student with whom you would like to work.
---
What you gain as a Research Mentor?
Hire one or more assistants at no cost to you
Receive up to a $1,000 (Faculty), $500 (Post-doc), or $250 (Graduate Student) materials grant
Be eligible for a $2,000 (Faculty) Undergraduate Research Mentor award ($500 Postdoctoral researcher/Grad Student)
Work with bright, motivated students
Long-term research partnerships: students are encouraged to continue working with faculty members after their UROP experience is over
Fulfill a service requirement or add to your CV
Give back to students, including our student veterans, and to FSU by fostering an intellectual community of budding scholars
Things to Consider


The CRE supports students throughout their UROP experience. Most students are eligible for compensation through Federal Work Study and/or academic credit. Many departments have additional, internal funding support available for students. Research mentors are also able to submit a separate application for materials grants funding (e.g. small equipment and supplies), awarded on a first come, first served basis. Faculty may request up to $1,000 for this supplementary funding ($500 postdoctoral researchers and $250 for graduate students)
While not directly compensated by the CRE, outside of students' research contributions, mentors use this experience to build their research, and as an addition for promotion and tenure applications. As a recognition of your time, the CRE allows participants to nominate exemplary mentors, and one UROP faculty mentor is awarded $2,000 each year, and one graduate student/postdoctoral researcher a $500 award.
title-inside title-centered
2