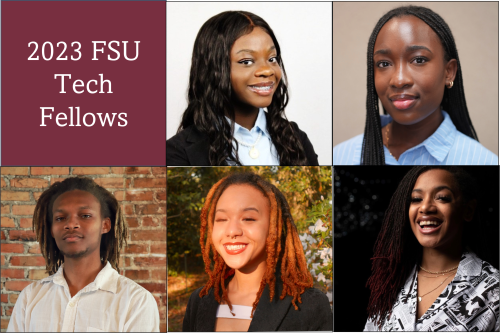 The Tech Fellows program exposes students to the everyday work of product development, entrepreneurship, and ecosystem building. As a fellow you will spend a dynamic summer embedded with business incubators and work alongside startup companies. The full-time summer internship may be face-to-face or virtual depending on the matching process between program partners and the Tech Fellows. In this program, you will gain hands-on experience and connections in entrepreneurship through working with incubator staff, startup companies, and mentors.
Another key component of the program is a 0-credit hour preparation course during the Spring 2024 semester. Within the course, you will learn about the work of business incubators and the startup launch process. In addition, you will interview at the beginning of the semester with our program partners as a part of the matching process. The current program partners include Tallahassee's Domi Station, North Florida Innovation Labs, Tampa Bay WaVe, and Orlando's Starter Studio. You can find a blank application here. Apply to the program here.
The Tech Fellows program is currently limited to CARE affiliated students. Applicants are eligible for a cost of living stipend. 
Information sessions are in-person and on Zoom. All sessions are in the honors, Scholars, and Fellows House.
3:00PM, Tuesday September 5th, Rm. 3008 and Zoom
3:00PM, Monday September 18th, Rm. 3008 and Zoom
4:00PM, Thursday October 5th, Rm. 3008 and Zoom
2:00PM, Wednesday October 18th, Rm. 3008 and Zoom
Application Writing Session, 2:00PM, Thursday October 26th, Rm. 3008 and Zoom
Eligibility
All undergraduate students are eligible to apply provided that they:
Are affiliated with FSU's Center for Academic Retention and Enhancement (CARE)

Are enrolled at FSU at the time of application

Will have completed at least 12 credit hours at FSU before accepting the Fellowship

Will return to FSU as an undergraduate in Fall of 2024
What kind of work will I be doing during the internship?
You can expect to be exposed to a wide range of work tasks and concepts, including things like curriculum development, venture capital, program management, facility management, event planning, marketing, and business strategy. You will learn best practices in entrepreneurship and innovation support, meeting some of Florida's top investors, mentors, and tech entrepreneurs. You will be in fast-paced, dynamic, and evolving environment, where it will pay to think on your feet and have the confidence to take ownership of your work.
Another key element of the fellowship is that you will document your experience with weekly reflections and will conduct a research project centered on an entrepreneurship-focused research question of your choosing. Finally, you will present your research at the CRE's annual President's Showcase of Undergraduate Research Excellence.
What kind of skills do I need to be a Tech Fellows?
That depends, but it helps if you have a core skillset or two such as design, coding, financial modeling, marketing, or writing. It will be up to you and your host site to not only leverage your core skills to add value, but to set goals for exposing you to new challenges that grow new skillsets.
What will I learn from the Spring preparation course?
In the course, you will engage with readings that will educate you on the best practices of cultivating entrepreneurial ecosystems and the work of business incubators associated with the FSU Tech Fellows program. In addition, you will learn about qualitative research methods including the conducting of interviews and participant observation. These lessons will contribute to the completion of a substantive research project culminating during the Fall 2024 semester.
What are the expectations of the internship?
The internship will begin in late May or early June and end in mid-August. You are expected to complete the entire internship and work with program staff to add value to your host site. The internship is full-time with you working on average about 25 hours per week and may include working at evening or weekend events. In addition to your work, you will document your experience with weekly reflection blog posts and a research project.
If you have any questions, please contact David Montez at dmontez@fsu.edu.
Learn about our partners
| | |
| --- | --- |
| | Tampa Bay WaVe: Founded in 2008, Tampa Bay Wave, Inc. is a 'by entrepreneurs, for entrepreneurs' 501(c)(3) nonprofit helping entrepreneurs build, launch, and grow breakout tech businesses in Tampa Bay. Since 2013, Wave has supported nearly 300 startups who collectively have raised over $200 million. One key program at WaVe include its TechDiversity Accelerator 90-day program designed for early-stage tech companies that are 51% owned, controlled, and operated by a minority, woman, veteran, disabled person, or LGBT person or persons. Another exciting program they offer is the highly specialized CyberTech|X Accelerator exclusively for innovative and disruptive technology startups focused on cybersecurity. |
| | Domi Station: Tallahassee's own business incubator Domi Station will help aspiring entrepreneurs to Gear Up and current business owners to Ascend. Other standout programs Domi provides include Third Act, supporting would be entrepreneurs  who are aged 50+ and Women Wednesdays benefiting the female business owners in Tallahassee. |
| | StarterStudio: It is the only 501c3 nonprofit accelerator that supports Central Florida tech startup founders with the robust and comprehensive educational programming, coaching, funding, and other resources they need to build successful companies locally. Through bootcamps, accelerators, and other free or low-cost programs offered at locations throughout the region, StarterStudio guides entrepreneurs along a continuous development path, whether they are at the idea, build, or seed stage.  |
| | North Florida Innovation Labs is a 40,000 square-foot facility that will serve the greater North Florida region. The $24M building will contain wet labs, dry labs, product prototyping areas and collaboration spaces to support a diverse range of technology innovation. The Lab will help stimulate the creation and growth of cutting-edge technology jobs in the North Florida region by providing new, dedicated resources to help ensure technology-based innovation opportunities stay in the region. North Florida Innovation Labs is slated to open in early 2024. |