The implementation of a design project for DFA-FSU has been postponed until Spring 2021. Applications for membership in the studio will open in the Fall 2020 semester.
Design for America at Florida State University (DFA-FSU) is part of a national network of universities across the country that uses human-centered design to make meaningful social impact on the FSU campus and the larger Tallahassee community. Students from interdisciplinary teams work with campus and local community partners to tackle pressing, real-world challenges. Teams work throughout the school year on projects that, generally, last a semester. The DFA-FSU studio is supported by professional experts who provide mentorship, faculty members who connect students to university-resources, and the DFA network which offers instruction and best practices. Through the DFS-FSU experience, students prepare for a future in the field of innovation, build friendships, and help change their communities for the better.

How to get involved
Join us Thursday Jan. 16th in the Innovation Hub's Pitch Room from 5:00 to 6:00 pm for our Spring Interest Meeting. Over the spring semester new studio members will learn about human-centered design and help the studio decide what major project the studio will ideate on in the 2020-2021 year. 
2019-2020 Projects
The Future of Child Welfare Work Design Sprint
In partnership with IBM and FSU's Center for the Study and Promotion of Communities, Families and Children, DFA-FSU co-hosted a design sprint (Thursday, Sept. 19th ) focusing on the future of work in child welfare. The DFA-FSU studio are taking the findings from the sprint and continuing the design process the remainder of the Fall  and Spring semesters. 
FSU students have access to IBM's Design Thinking Practitioner Online course. Completing the course will earn you IBM's Practitioner certification or badge. By earning this badge you will be showing development in the following skills; user-centered design, experience design, UX, user research, ideation and empathy.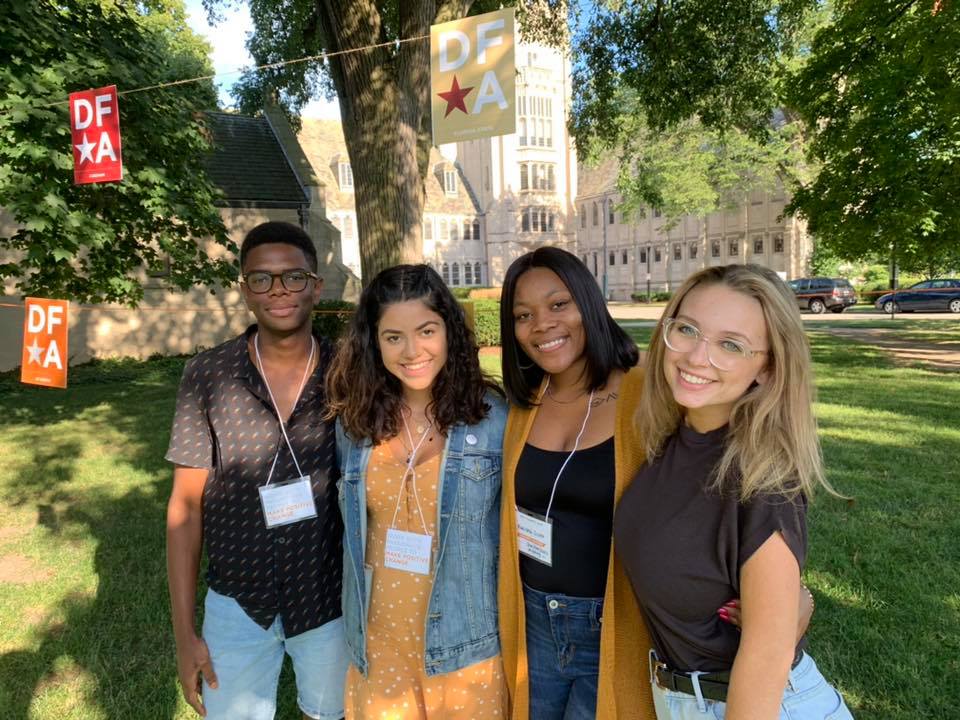 The 2019 DFA@FSU Leadership Team at Northwestern University in Chicago, IL. 
Email Dave Montez at dmontez@fsu.edu if you have any questions. Please return to this page for updates on regular studio meeting dates and times.
Find out more information about the DFA national organization at their website.