The Center for Undergraduate Research and Academic Engagement is keenly aware of how much time and energy our faculty contribute to undergraduate research at FSU, and we are glad to be able to recognize that hard work and dedication. In addition to the Honors Thesis Mentor Awards made available by the University Honors Program, the Center for Undergraduate Research and Academic Engagement offers one Undergraduate Research Mentor Award each year reserved for a faculty research mentor participating in the Undergraduate Research Opportunity Program (UROP). The $2,000 award is funded by the FSU Student Foundation and presented at the annual FSU faculty awards dinner.
One graduate student/postdoctoral researcher is also selected for a $500 annual award for recognition of excellence in undergraduate research mentoring.
The Undergraduate Research Mentor Award for 2018 was presented to Dr. Meredith McQuerry for mentoring UROP student Reannan Riedy on a project that aims to investigate printed cooling technology on T-shirts.
Read more about Dr. McQuerry's work here.
Dr. Meredith McQuerry (nominated by UROP student Reannan Riedy)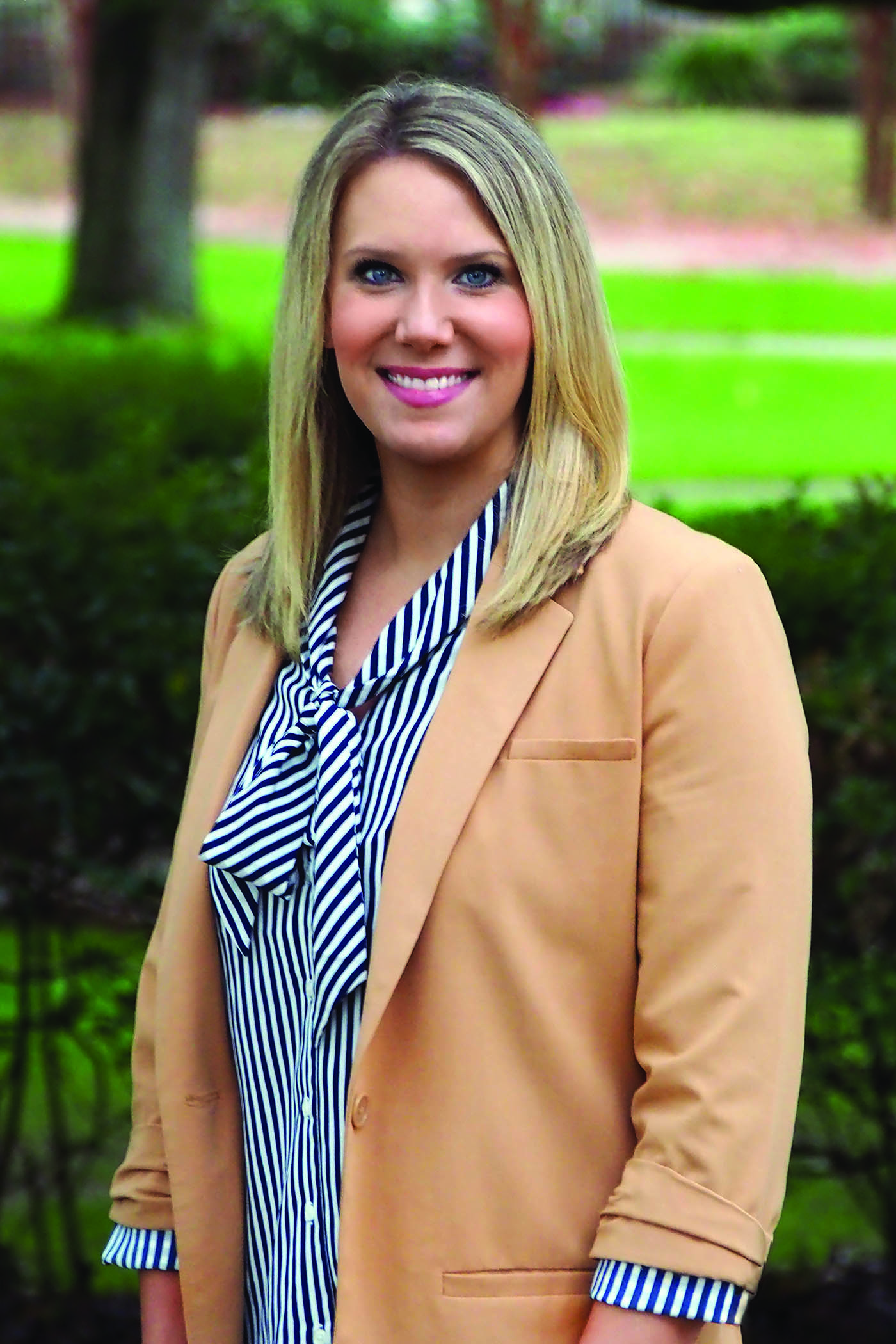 "My overarching philosophy for mentoring and guiding undergraduate students through the research process is to "lead by example." I strive to provide students with sufficient resources to tackle challenges and answer difficult questions independently, feeling comfortable to seek my guidance as necessary. My approach begins with introducing students to a research topic or problem and guiding them towards a comprehensive understanding of the subject. In some cases, the definition of the research problem is outlined by my ongoing projects, but other times, the students come forward with their own individual research interests. I do believe the latter is my favorite: to observe a student as they blossom in their understanding of a subject and to watch their self-confidence and pride grow as they discover the ability to design, execute, and analyze their own independent research.
[I also strive] to engage students in the broader research community on the local, national, and international stage. My students have presented posters and given research presentations at FSU events, regional consortiums, and international conferences. I encourage students to take advantage of every opportunity to build their network and gain confidence in their presentation skills. I strongly believe in supporting students in this type of outreach as I would not be where I am today had it not been for my research mentors providing me with the same opportunities."  – Dr. Meredith McQuerry
"An "inspiration" is really the best way that I know how to describe Dr. Meredith McQuerry. Although this was her first year inviting UROP students onto her project, it was very clear that she wanted to do the best she could for the sake of the students…Some of her UROP students came in with no knowledge on the field of textile quality assurance, but her commitment to providing us guidance through these past two semesters has been outstanding. Her door is always open to both her lab assistants and her numerous students throughout the Retail Entrepreneurship program, despite the numerous projects she is working on. Dr. McQuerry provides us with the means to do our own literature reviews and come up with our own ideas, and is even willing to implement these ideas into her own projects. For example, when I came to her saying that I was interested in visually assessing a component of our research on a microscopic level, [so] she put me in touch with a contact at the MagLab and generously added my idea to the project.
 Beyond being a truly wonderful person and educator, Dr. McQuerry's research portfolio is both impressive and impactful. Dr. McQuerry's research serves to help real people in the real world as they perform their everyday jobs. The project that the UROP students are assigned to focuses on testing the durability of t-shirts with an active cooling finish. These shirts are designed specifically to benefit migrant workers who work in an agricultural setting. The phase change material (PCM) cools the human body down when it reaches a specific temperature.
 I will be forever grateful for the opportunities and support that Dr. McQuerry has provided me with during this experience. I have learned more than I ever though I would about research and have truly developed a love for it. Not only does Dr. McQuerry excel as a researcher and an educator, but she also impacts her students' lives every single day."  – UROP Student Reannan Riedy
The Undergraduate Research Post-Doc/Graduate Student Mentor Awards for 2018 were presented to graduate students Henry Cuddy and Joshua Gagnier. Henry mentored UROP student Sergio Carlos Tamez in researching carpentry in 17th century Spanish Florida. Joshua mentored both Madison Orlowski and Luciana Villarroel in researching organic synthesis with microwaves.
Henry Cuddy (nominated by UROP student Sergio Carlos Tamez)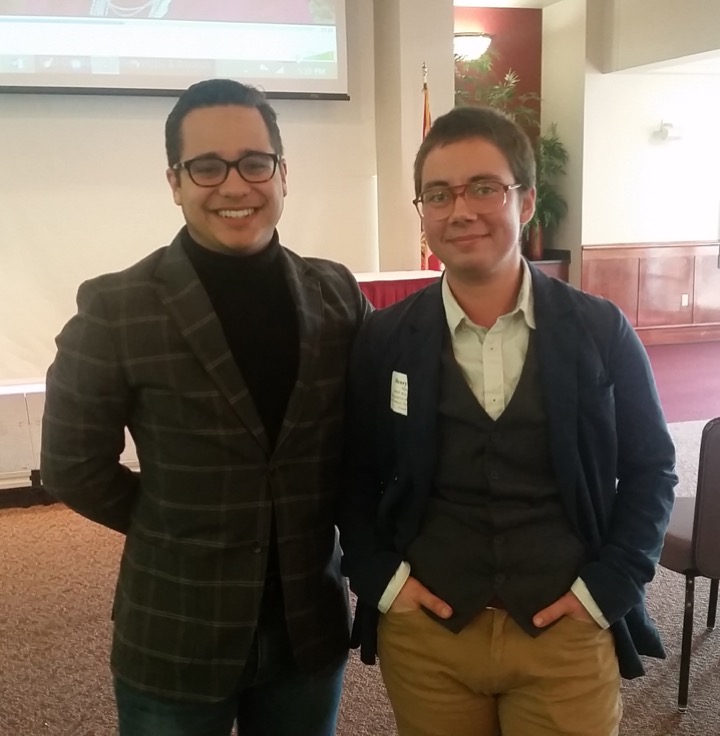 "My primary intentions for applying for a UROP mentee were simply to have someone share in my boundless love for Spanish colonial history and to give someone the opportunity to earn a publication credit for their contributions to my research article. I will happily admit that I was not prepared for the quality of assistance I was given by Sergio, and I realized my folly almost immediately after our initial interview. The students who apply for research assistantships through UROP are dedicated, driven, creative, inexhaustible, and have an immense desire to learn. I wanted to match that enthusiasm with my own passion for this project and sharing the experiences and tools I have acquired in my own academic career…Sergio comes from a different academic background than I do and has an immense drive and enthusiasm that I have tried to foster with this project. I encourage him to share his ideas and input whenever possible to strengthen the project and take it down new avenues that I might never have considered on my own. It is my belief that a mentor-assistant relationship is not beneficial for either party unless both learn something new from the experience. Sergio's perspective and contributions to my research are instrumental to my project and the challenge of viewing my work as a teaching tool has undeniably strengthened its overall coherence and value." - Henry Cuddy
"Working with Henry Cuddy on his research project in UROP this year has been an incredible experience. Henry has a passion for living history and ensuring that marginalized voices and people are heard and seen, and his research into the carpenters at Mission San Luis, who were in fact Apalachee Native Americans, showed just that. The research that we did required that Henry fly to Sevilla in Spain to collect 17th and 18th century Spanish documents so that we could transcribe and translate them. Although I am a native Spanish speaker, transcribing and reading 17th century Spanish script was very difficult. Henry provided excellent resources for learning how to read the unique Spanish abbreviations that helped me become more confident in my transcriptions, and also gave me my first experience in working with historical primary documents. I plan to attend graduate school for ancient history, so having experience and the skills to read difficult ancient documents is critical for my future goals, and I'm grateful Henry helped me through some of the more tedious transcriptions. Most importantly, Henry became a valuable mentor for me, an out gay person, because he is an openly transgender man pursuing graduate work in history. When I first met Henry, he had just begun his transition…and in our interview he was open about the challenges that he would be facing this year as we worked together. Seeing an openly LGBTQ person studying history at the post-graduate level and working in a living history museum, interacting with and educating students, was a powerful moment for me. Classics and History faculties, unfortunately, are still overwhelmingly white, male, and straight, and sometimes that can be discouraging for LGBTQ and POC students who want to be professors and pursue Ph.Ds. But Henry's research demonstrates the valuable insights diverse researchers can bring to academic discourse…" - UROP Student Sergio Carlos Tamez
Joshua Gagnier (nominated by UROP students Luciana Villarroel and Madison Orlowski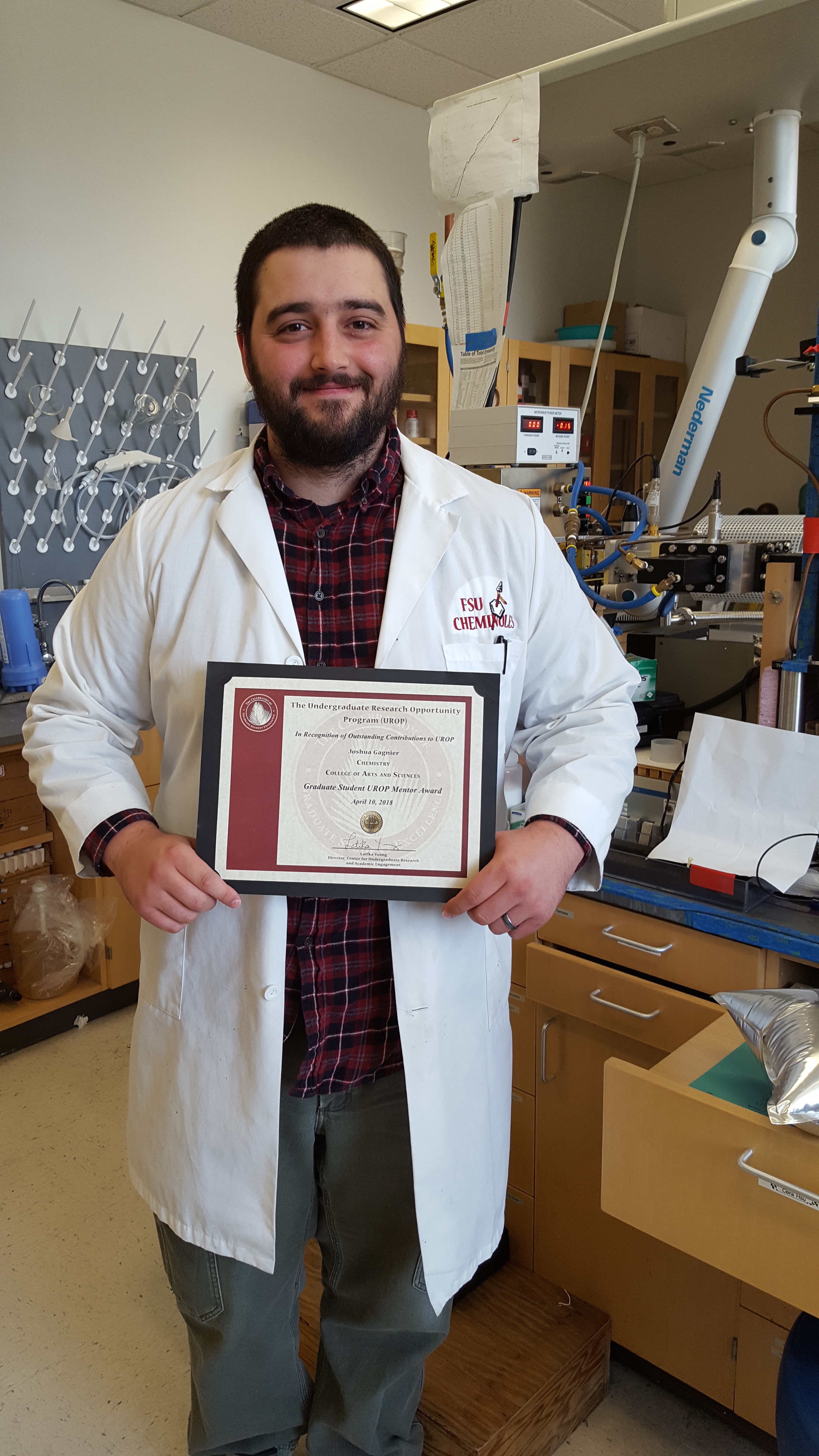 "My goal when I mentor an undergraduate is to make them a better researcher and scientist so that the scientific community can prosper, in particular my field of chemistry. With current academic standards pushing STEM programs, it becomes clear that the people within any STEM program must be well versed in their field of study as well as other fields. They must find ways to connect their views with the world around them and be able to analyze all things to the best of their ability. With this in mind I utilize what I term the "See-Do-Teach" method. I apply this method as I teach my research assistants the process of being a scientific researcher beginning with simple techniques before moving to more advanced techniques, and intermittently discuss theory eventually leading them to how they can branch off without my guidance. The use of a mentor is quite helpful for growth of a new researcher. When I started research, my very first day my professor told me what my project was, what reaction I needed to begin with and said good luck. I was thrown to the wolves with almost no experience, and no immediate guidance. It took me a while to grow as a researcher, and my thoughts went to the old saying about teaching a man to fish, and how someone would learn to fish without a teacher. I often recall my struggle and failures, yet somehow got enough results to publish my first paper. Overtime I grew as a researcher, and after coming to graduate school feel more confident in my abilities. I mentor my students as to bypass the mistakes and pitfalls I made, so that they can grow faster. I view every opportunity as a teaching moment whether successful or otherwise." - Joshua Gagnier
"Josh has been a wonderful mentor and has graciously answered all the questions I have had regarding to the lab and beyond. Like Josh, I have plans to go to graduate school for Chemistry. His wisdom about Chemistry, the process of applying to and attending graduate school, and life in general has made him a life mentor, not just a research mentor.  He has inspired me to get more involved in the Chemistry department at FSU and to continue doing research after he graduates in the Fall. His passion for Chemistry and research are undoubtable after witnessing some of the late-nights and weekends he spends in the laboratory. In the few months I have known Josh, he has inspired me to be a better Chemist, inquirer, and student." - UROP student Luciana Villarroel
"I was accepted to a research position under Josh in an organic chemistry lab, even though I have never taken organic chemistry in my life. This demonstrates, above anything, what a great teacher Josh is. How far I, individually, have come in my knowledge of chemistry is astounding. This is all due to Josh's diligence, mentorship, compassion, and willingness to teach with the patience to explain the answer to any question, no matter how complex or simplistic. He assigned me chapters to read and practice problems from the organic chemistry textbook to help me catch up, and reviewed answers and explained to me anything and everything I failed to understand… I have learned so much through this research experience and through Josh's mentorship. Not only have I discovered the meaning and process of research, but I am familiar with a laboratory setting and I feel comfortable with real-life chemistry. Not to mention, when I finally do take Organic Chemistry I this fall, it's safe to say it won't be nearly as challenging. All of these benefits I have acquired through working in the lab are due to Josh's dedication to not only his research, but to sharing his research with me." - UROP Student Madison Orlowski
title-inside title-centered
2