Welcome to the CRE! You're already on the path to getting your undergraduate research journey started here at FSU! You have quite a few options available to you to meet with CRE Staff.
The first is the option to meet with specific staff members about specific projects using our Campus Connect Personal Availability Links:
General CRE Programming with David Advent (david.advent@fsu.edu): https://fsu.campus.eab.com/pal/wGryWo5Ivr
The Undergraduate Research Opportunity Program (UROP) and the Florida-Georgia Louis Stokes Alliance for Minority Participation in STEM (FGLSAMP) with Alicia Batailles (alicia.batailles@fsu.edu): https://fsu.campus.eab.com/pal/OXivRIiRdC
Global Programs (Global Scholars and Gap Years) with Warren Oliver (boliver@fsu.edu): https://fsu.campus.eab.com/pal/gUw7hQh9dR
IDEA Grants and Innovation Programs (Tech Fellows) with Dave Montez (dmontez@fsu.edu): https://fsu.campus.eab.com/pal/76NEU-QYGW
If you are a high school student and would like to meet with CRE, please email cre@fsu.edu to schedule an appointment.
Your second option is attending Summer Drop-in Advising:
We're holding Virtual Drop-In Advising Hours for Summer 2022 starting January 10th, 2022! Please view the schedule below. You can follow the Zoom Registration links (separated by day/time) for Drop-In appointments. Once you click on the link, you will have to register. After registering, you will receive a confirmation email containing information about joining the meeting, where you will be in a waiting room until the meeting starts.
​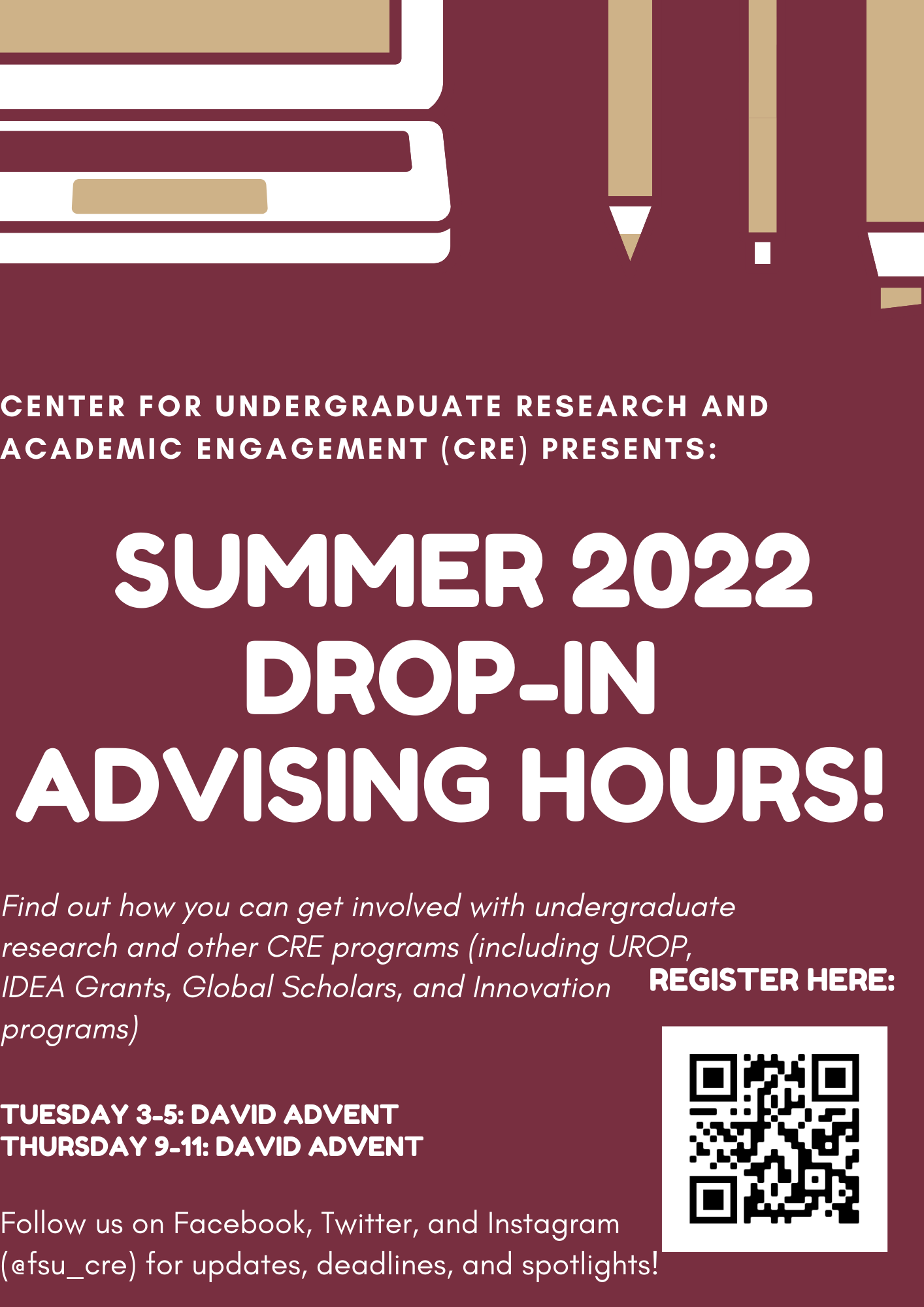 Tuesday 3:00PM - 5:00PM:   https://fsu.zoom.us/meeting/register/tJcpf-qqpjMrHNPexLRRpCNb6gF7eSoJv6Jj
Thursday 9:00AM - 11:00AM: https://fsu.zoom.us/meeting/register/tJUqdeqvqD0vGNai0tg3djlABhRWBy7aqCEr
Finally, you can also:
Set up a meeting with an Undergraduate Research Ambassador of SCURC (Student Council on Undergraduate Research and Creativity) to discuss your interests. Contact them at ura.fsu@gmail.com.
Follow CRE on social media and sign up for our newsletter for updates on what's happening in undergraduate research: https://linktr.ee/FSUCRE
We're here to help!
title-inside title-centered
2